Mouse Mesh Inbuilt - newly developed long term protection
The function of an airbrick is to allow air flow into the space under suspended floors and in cavity walls to keep them ventilated and free from problems such as damp and mould.
Mousemesh has commissioned a testing programme to measure air flow through our pest controlled airbricks to determine their efficiency and to compare them with standard airbricks.
The following results were obtained by L & F Solutions:
Equivalent Area: 5790mm2
Free area: 40%

Mousemesh will not interrupt air flow, even with atmospheric conditions taken into consideration any perceived interruption is negligible. It is, however, advisable to maintain Mousemesh grilles once fitted by using a small brush to clear any obstacles such as the build up of dust, leaves etc.
L & F Solutions are members of the Air Tightness Testing Association (ATA) and they may be contacted at:
L & F Solutions
Unit 3 Beech Farm Offices
Lymm Road
Thelwall
Werrington
WA4 2TG
01925 758999
All members of ATA have been accredited by UKAS to ISO/IEC 17025, with a scope covering air tightness testing to ATA technical standard 1 and BS EN:13829 (2001). This third party accreditation demonstrates the technical competence of ATA members in carrying out air tightness testing, including calibration of equipment used and training of staff carrying out the test.
Strength Test for MouseMesh Airbricks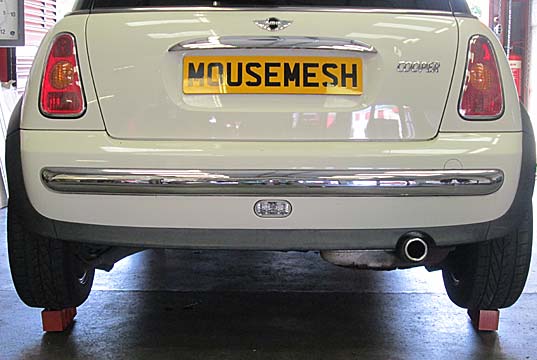 In order to demonstrate the strength of Mousemesh Inbuilt we carefully parked a Mini Cooper on a couple of Mousemesh Inbuilts - they coped with the weight with no trouble at all - as these photographs show!
WARNING NOTICE
Do Not Use This Product For The Ventilation Of Gas Appliances